Humanizando el azul
MLT story
April 10, 2018
By Julieta Liberson
For english scroll down
Molet es un hombre, de 35 años, diseñador, emprendedor, creativo, motivador, educador. Saluda a la gente con una sonrisa relajada y un leve movimiento de cabeza. De esos tipos que a todo el mundo le cae bien.
El se viste casual, y su ropa está siempre con algo de polvo de madera, pero se mantiene con estilo.
Le gusta Manu chao y también daft punk.
Charlar con él es interesante, charlas que quedan siempre en el recuerdo.
el día que dibuje el cuerpo de MOLET
Para él, el aroma de la madera recién sellada con fuego o el sonido de la sierra arrancando a funcionar son placeres que no están al alcance de todos, por eso los disfruta tanto.
El no se puede aburrir, siempre necesita hacer algo nuevo, motivarse con caminos innovadores, rodearse de gente de todo tipo de orígenes, estilos y edades, aprender de cada uno de ellos. Es internacional, no tiene un país de residencia único porque no le gusta estar siempre en el mismo lugar.
Por momentos es algo estructurado, no puede rebelarse con ciertas cosas: 1 cuadrado, 2 triángulos, 1 círculo y 2 rectángulos forman su identidad, forman MOLET, y nada lo puede cambiar. Formas de letras unidas, en comunidad. Geometría simple a primera vista, pero escondiendo muchos significados en profundidad.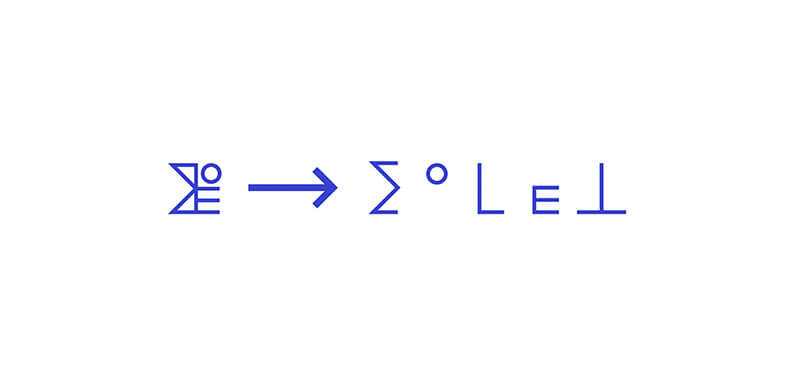 Formación de ISO.
Proceso diseño de marca.
Dicen por ahí que su base y su existencia es un hombrecito (creeriamos que Taylor) levantando pallets, encontrados en cualquier parte del mundo, en cualquier rincón, calle, descampado, estacionamiento, esquina, terraza, obra… prácticamente en todos lados. Y ahí está el, MOLET, levantando y transformando, construyendo algo útil y hermoso, invitando a todos a ayudar, a crear. El es real, te saca por unas horas de la computadora, te recuerda lo que es construir con tus propias manos.
El tiene sangre azul, color fuerte, dominante, atemporal – listo para cualquier circunstancia -, color asociado con lo eterno, un rato con MOLET y la experiencia quedará para siempre, de forma espiritual y material (colgada o apoyada en algún sector de tu casa). Tres/cinco horas con MOLET "es como terapia, mejor que cualquier terapia" – dicho por los creadores del MLT #900.
Conocelo, te estamos esperando.
Juli Liberson
diseñadora gráfica, manager de contenido en MOLET.
Humanizing the blue
Molet is a man, age 35, designer, entrepreneur, creative, motivator, educator. He says Hi to people with a relaxed smile and a slight nod. One of these guys that everyone likes.
He dresses casual, and his clothes are always with some wood dust. Nonetheless, he stays in style.
He likes Manu Chao and also Daft Punk.
Chatting with him is always interesting, talks that will be forever memorable.
For him, the scent of wood recently sealed with fire, or the sound of the turned on saw, are pleasures that are not available to everyone, that's why he enjoys them so much.
He can not be bored, he always needs to do something new, motivate himself with innovative paths, surround himself with people of all kinds of origins, styles and ages, learn from each one of them. He's international, a man of many countries, he doesn't like to stay too long in one place.
There are moments that he's kind of structured, without being able to resist to certain things: 1 square, 2 triangles, 1 circle and 2 rectangles form his identity, form MOLET, and nothing can change that. United letters, in community. Simple geometry at first sight, but hiding many meanings in depth.
They say that their base and existence is a little man (we would like to think that is Taylor) lifting pallets, found anywhere in the world, in any corner, street, open ground, parking lot, terrace… practically everywhere. And there he is, MOLET, lifting and transforming, building something useful and beautiful, inviting everyone to help, to create. He is real, he takes you for a few hours out of the computer, he reminds you what it is to build with your own hands.
He has blue blood, strong color, dominant, timeless – ready for any circumstance – color associated with the eternal, a moment with MOLET and the experience will remain forever, in a spiritual and materialistic way (hanging or placed in some space of your house). Three/five hours with MOLET "is like therapy, better than any therapy" – said by the creators of the MLT # 900.
Meet him, we are waiting for you.
Juli Liberson
graphic designer, content manager at MOLET.